Summer Squash Pasta Salad
This page contains affiliate links. For more information please read my Disclosure Policy.
This light and healthy summer squash pasta salad is loaded with zucchini and yellow squash and tossed with a lemony garlic dressing. With some quick pickled shallots and a handful of fresh parsley, this is a summer pasta salad that makes great use of seasonal vegetables and flavor.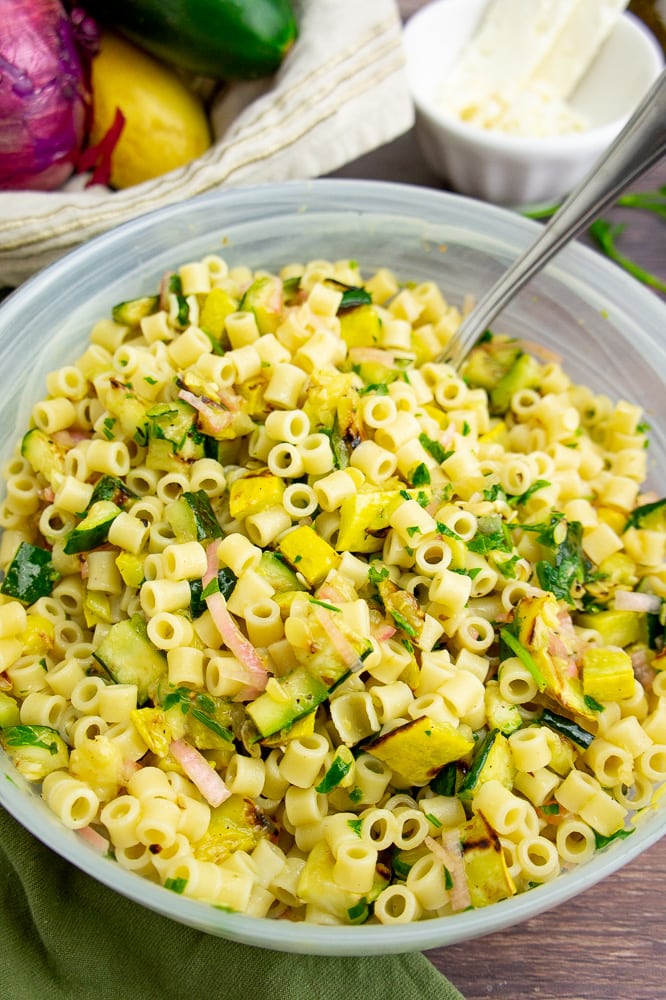 Pasta salad is one of my adult obsessions. As a kid, my mom detested (and still does) pasta salad so my experience of them was limited to the occasional potluck or cookout. If you've ever had a bad pasta salad…you can understand why it took me many years to start making my own.
Thing is, when tossed with the right combination of ingredients and a flavorful dressing that compliments the salad, it can transform from a dull side to a bright, refreshing summer salad that you and your guests will be happy to eat. Don't count on leftovers!
Cooking your SUmmer squash – Methods
Before we get into the nitty gritty, I wanted to briefly advocate for the grilling of your summer squash. Grilled summer squash has this incredible smoky, just charred enough flavor that really elevates your pasta salad.
That being said, if you're not firing up your grill to cook other things (even though this pasta salad goes very nicely with grilled meats like lemon soy chicken, hint hint), I can understand wanting other methods! Here are a few choices:
Grilled – sliced into 1/4 inch thick, long slices. Brush both sides with oil and season with salt and pepper. Cook over direct, hot coals or flame for 4 minutes per side. Get more specific details in my Grilled Summer Squash recipe
Sauteed – In a hot pan, pour in two tablespoons of oil and lay seasoned slices of squash in a single layer. Let brown and flip. Repeat until all cooked.
Oven roasted – Brush both sides of your sliced squash with oil and sprinkle with salt and pepper. Lay in a single layer on a baking sheet and roast in a 375°F oven for 10 minutes, flipping halfway through.
Grill Pan – Preheat pan until very hot, lightly oil both sides of your squash and season. Cook in a single layer in your preheated pan for 4 minutes per side. (I love this grill pan, it's two sided and I use the other side to cook things like bacon jam burgers!)
Ingredients
Now that we've discussed the squash portion of summer squash pasta salad, let's move on to the rest of the salad. It takes a few key components to make this light summery salad sing.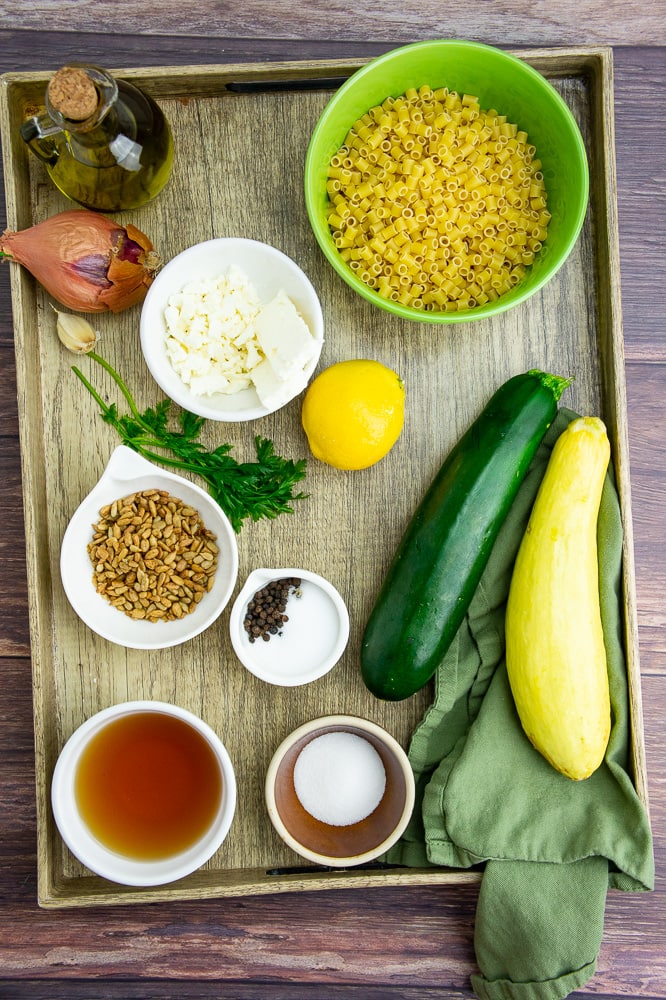 Pasta – I like the little Ditalini shaped pasta for this because I knew I was going to dice my squash, and I wanted similarly sized shapes for consistently flavored bites. You can use your pasta of choice of course, but I'd stick with a small pasta.
Summer squash – you can again use your preferred summer squash varieties, I'm a fan of the zucchini and summer squash combo, for both color and flavor. You'll need two medium sized, or three small squashes.
Shallot – 1 large shallot will do, you can substitute another mild onion, but I think the gentle bite of shallot is just right so it doesn't take over your palate when you eat a big spoonful. Plus they turn a pretty pink when pickled.
Parsley – Fresh parsley is my go to herb, it's mellow and adaptive. There's not really a great substitution for this as other herbs tend to have too big a flavor for this salad. In a pinch, go with dried parsley, but half the amount.
Apple Cider Vinegar – Vinegar is needed to pickle your shallots. I chose apple cider because it lends a subtle fruity sweetness that the salad needs.
Sugar – Another required ingredient for a quick pickle.
Lemon – A whole lemon, both the zest and juice are used in this, and is the basis for the dressing.
Garlic – Just enough garlic to take the bite out of lemon and give the dressing a subtle garlic flavor.
Salt and Pepper – Both of these are used in various places throughout the recipe as the key to a truly flavorful recipe is always seasoning at every step.
Let's Cook – the How To
There are several steps that go into making this a successful dish. That being said it's best when served cold, so you can very easily make this hours ahead of the rest of the meal so you can focus on other things when it comes to dinner time.
Start by bringing a pot of salted water to a boil for your pasta. Remember you want your water salty like the sea to properly season your pasta.
Next we're going to pickle some shallots. A quick pickle benefits from a hot brine, so first combine your apple cider vinegar, sugar, and 1 teaspoon of salt in a pan. Place it over high heat and let it come to a fast boil. Meanwhile, slice your shallots into thin slices.
Place your shallots in a jar or other heatproof, non reactive container and pour over the boiling vinegar. There should be enough to cover the shallots, press them down gently if any are above the brine. Let them cool at room temperature while you get the rest ready.
Once your water is boiling, add your pasta and give it a stir to prevent sticking. Allow to cook according to package instructions for al dente. (Overcooking will lead to a mushy pasta salad)
While that's cooking, slice your zucchini and squash in 1/4 inch slices and choose your cooking method. I prefer grilling or a grill pan, so I oil and season both sides and cook them for 4 minutes per side on a hot grill.
When your pasta is cooked, drain it and give it a quick rinse with cool water. If you're in a hurry, pour the pasta onto a baking sheet and spread it out to let it cool faster.
As your pasta cools, zest and juice your lemon. Combine both with the garlic, a pinch of kosher salt (like 1/8th of a teaspoon), and the olive oil. Whisk with a fork to combine.
Chop your cooked squash into small cubes and combine in a bowl with your cooled pasta. Chop your parsley and add to the bowl. Next drain the brine from your shallots and give a quick chop, add those too.
Pour your whisked dressing over top and mix to combine. Be sure to scrape along the bottom of the bowl to prevent big clumps of pasta or squash and allow for consistent bites.
Taste and add a pinch of salt or pepper as needed. Then cover and chill until ready to serve, up to 3 days.
Pro Tip: If you love pickled shallots or onion, you can easily double or even triple the amount required for this recipe. Then take out what you need for the pasta salad and return the rest to the fridge, tightly sealed, for up to a month. Use as desired!
Once you're ready to serve you can of course garnish with a few choice toppings. Truthfully most of the time we haven't bothered but on occasion when I'm feeling fancy, I like to add some sunflower seeds and a nice salty feta cheese crumble. If that sounds like your jam, try it! If you've got another idea, do share!
FAQ'S
Can I use prepared pickled shallots or onion?
Yes of course. If you'd prefer to shortcut that step and have a brand of pickled onions you like, go for it.
How do I use dried parsley instead of fresh?
Because dried parsley is…well dry, I suggest adding it to the dressing while you mix it rather than directly to the salad. This will let it re-hydrate a little and still give you the essence of parsley flavor. Remember you'll only need about half the amount.
Can I serve this warm?
Sure. We've been impatient many times and have opted to serve it room temp or still slightly warm. The flavor is more developed when chilled, as everything has been swimming around together for a while, but it's still tasty!
Eat & Enjoy
If you're a long time fan of pasta salad, add this to your repertoire. If you're like me and just learning how beautiful and foodie friendly they can be, well then, this is the perfect place to start. I hope you enjoy it, and until next time, Happy Eating!
A few more pasta salads I recommend!
Summer Squash Pasta Salad
A light and healthy pasta salad with tender zucchini, yellow squash, quick pickled shallots, and parsley tossed in a fresh lemon garlic dressing.
Ingredients
1 1/2

cups

uncooked pasta

2

medium

summer squash*

1

large

shallot

1/2

cup

apple cider vinegar

1

medium

lemon

2

tablespoons

chopped parsley

1

large

garlic clove

5

tablespoons

olive oil

1

tablespoon

sugar

2 1/4

teaspoons

kosher salt, divided

plus extra for pasta water

1/2

teaspoon

pepper
Instructions
Bring a pot of well salted water to a boil over high heat.

Combine your vinegar, sugar, and 1 teaspoon of salt in another pan and place over medium high heat.

Slice your shallot into thin strips and place in a jar or heat safe container. When vinegar has come to a boil, pour over the shallots so they're submerged and set aside to cool.

When your water is boiling, add the pasta and stir to prevent clumping. Allow to cook according to package instructions for al dente.

Slice your summer squash into 1/4 inch thick strips. Heat a grill pan (or cook over a charcoal grill, see notes*) to medium high heat.

Brush both sides of your squash slices with 2 tablespoons of oil and season with 1 teaspoon of salt and 1/2 teaspoon of pepper.

Cook squash in a single layer on the hot grill pan for 4 minutes on each side, or until tender. Set aside.

When you're pasta is done cooking, drain and rinse briefly with cool water to stop the cooking process. Lay it out on a baking sheet in a thin layer to allow faster cooling.

Zest and juice you're lemon, and finely mince your garlic. Combine the zest and 2 tablespoons of lemon juice in a bowl with the garlic, a pinch of salt, and the remaining 3 tablespoons of olive oil. Whisk to combine.

Chop your summer squash into small cubes and mince your parsley. Drain off the vinegar from the shallots and give a quick chop. Combine it all in a bowl with cooled pasta.

Pour over lemon dressing and stir to combine. Taste and adjust salt or pepper as needed. Chill for at least one hour, up to 3 days, and serve chilled.
Notes
*You can use your preferred summer squash, my favorites are a combination of zucchini and yellow squash.
*Please note that you can cook the squash on a grill pan, in a saute pan, in the oven, or grilled on a barbecue. Simply oil, season, and cook until tender for best results in this pasta salad. See above post for more details.
*I use Morton's kosher salt in all my cooking, please taste and adjust salt based on personal preference and product.
Nutrition
Calories:
265
kcal
Carbohydrates:
33
g
Protein:
6
g
Fat:
12
g
Saturated Fat:
2
g
Sodium:
878
mg
Potassium:
310
mg
Fiber:
3
g
Sugar:
5
g
Vitamin A:
243
IU
Vitamin C:
23
mg
Calcium:
24
mg
Iron:
1
mg
Nutrition information and cooking times are provided as a best estimate. Values may vary based upon ingredients and equipment.